02

Large-scale Production Technology
SanBio's large-scale production technology established over 10 years
SanBio has succeeded in scaling up production of its regenerative cell based investigational product, SB623, after a number of years developing the necessary manufacturing processes.
SanBio's regenerative cell medicine pipeline is manufactured by culturing mesenchymal stem cells isolated from the bone marrow from healthy adult donors. SanBio's process involves culturing living cells. SanBio has succeeded in producing large quantities of homogeneous cells using its sophisticated biomanufacturing expertise, which required many repeated iterations, and much time and perseverance to develop and reliably replicate the process. SanBio has succeeded in meeting all these challenges, and is using the resulting investigational product in its clinical trials, fully complying with the FDA's "Good Manufacturing Practice" requirements.
Manufacturing Process of SanBio's SB623
The regenerative cell based investigational product SB623 is produced by culturing mesenchymal stem cells collected from bone marrow of healthy adult donors, then temporarily modifying the gene expression of these cells to enhance their neuroregenerative properties.
Large-scale production of cells derived from bone marrow donors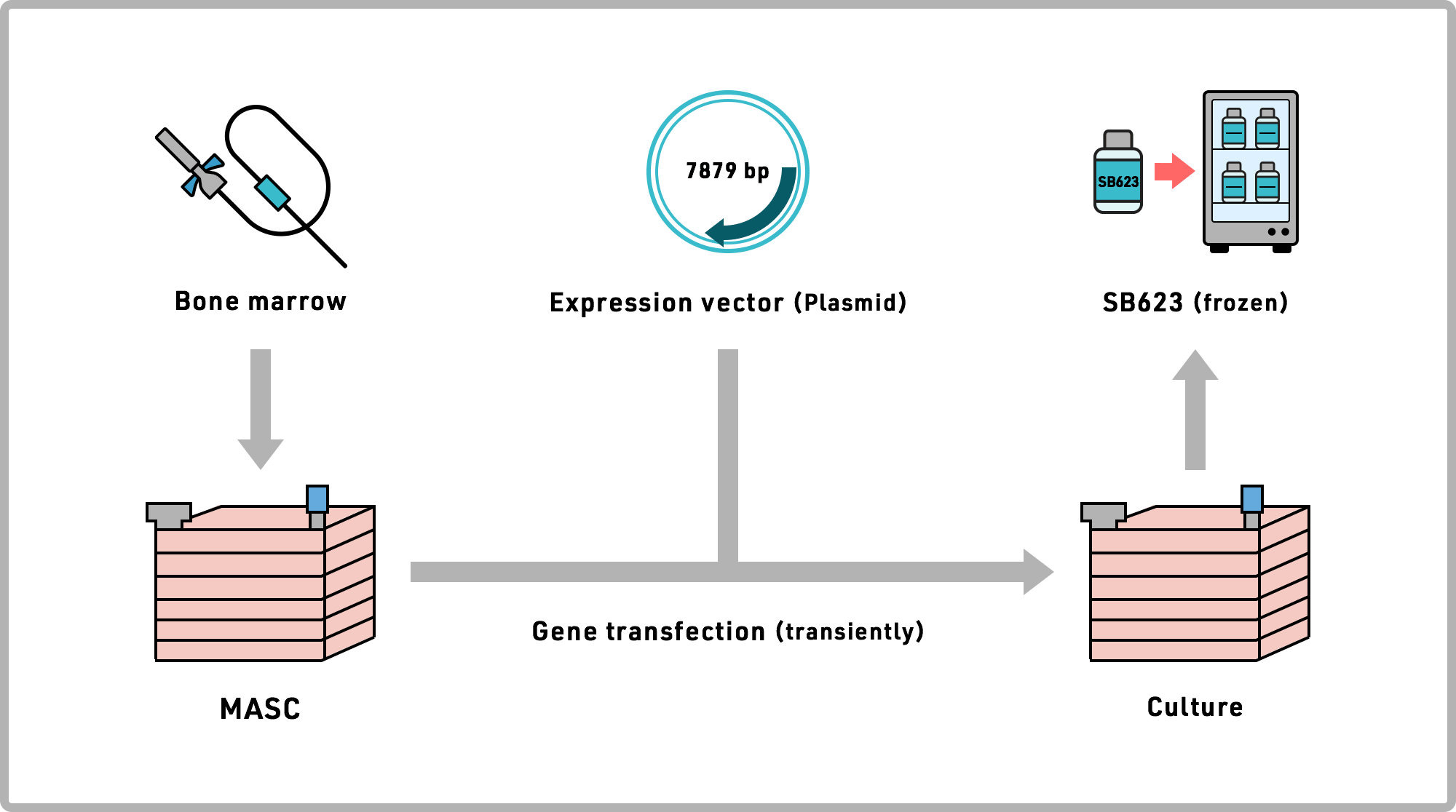 It Takes Time to Develop Large Scale Production Technology
From abstract technical concepts, to small-scale production, to optimizing conditions for larger batches, to preparing for GMP manufacturing, to actual GMP manufacturing, to setting up and refining a quality control and assurance system – it takes years to establish mass production technology for cell-based drug production.
It Takes Time to Develop Large Scale Production Technology